Healthy Pumpkin Pie Recipes

Healthy pumpkin pie recipes show you how to turn leftover fall pumpkins and wheat berries into a healthy, delicious treat.

My pumpkin pie, made from fresh pumpkin and fresh ground wheat.

Making a pumpkin into a pie is one of the most satisfying things you can do.  Have someone in the family with a wheat allergy who would really like a gluten-free pumpkin pie?  Then check out the gluten-free pumpkin pie recipe below.
I always feel like a true homesteading woman when I do this. Plus, it's so much healthier than anything you can buy in the store.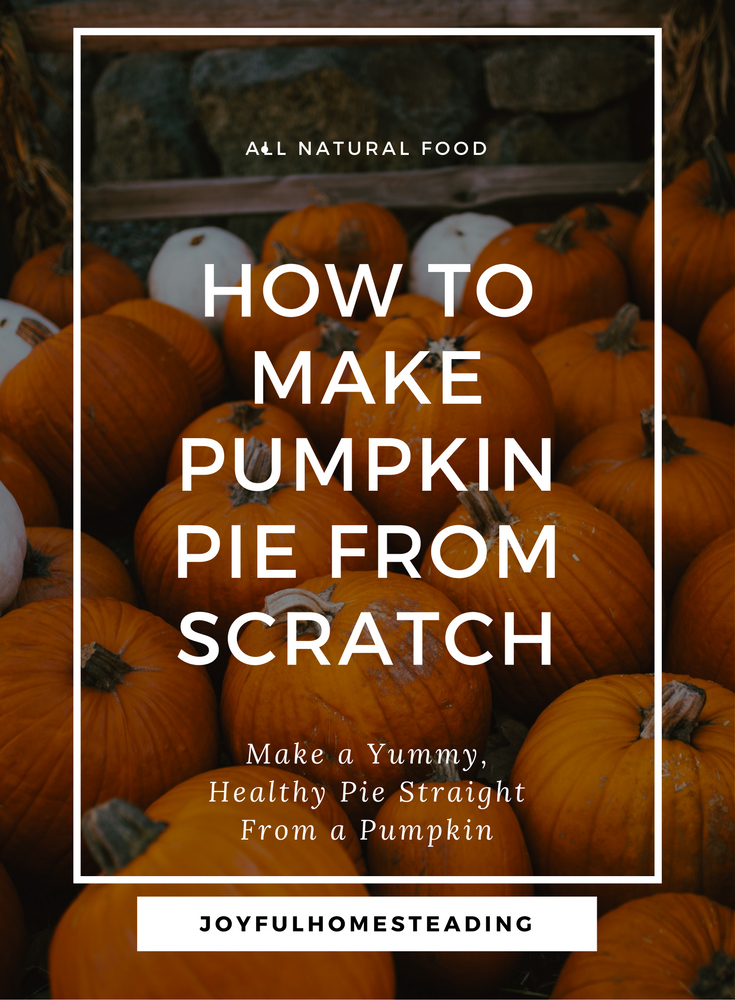 True, the pumpkin came from Wal-Mart instead of my garden (It was on sale the day after Halloween – a big monster of a vegetable for only two dollars), but still, it was tremendously satisfying.
I made the mistake of turning my pumpkin into a pie on the same day. Next time, I'll cook the pumpkin first, save just enough for one pie recipe while freezing the rest, and then make the pie the following day.

Want to be truly self-reliant? Then make your own sweetened condensed milk for your healthy pumpkin pies recipes.  While you're at it, save some of the seeds and plant them in your organic garden next spring. Be sure to add the pumpkin guts to your compost pile.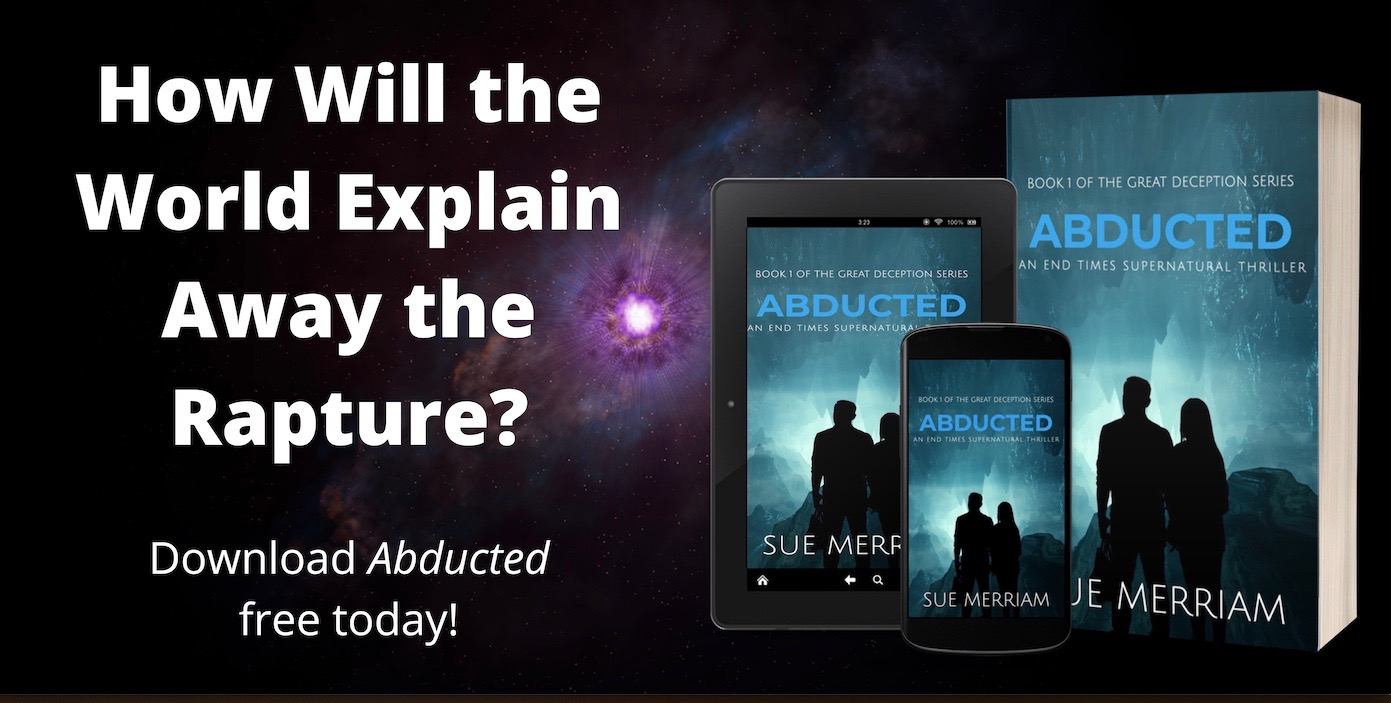 Step One:  Cut up Your Pumpkin

You'll want a big, sharp knife to do this, something strong enough to cut through the tough rind.

Once you have the pumpkin cut into slices, cut away the seeds and stringy part until you have only pumpkin flesh and rind left.

Step Two: Save the Seeds

No, you can't use these in your healthy pumpkin pie recipes, but you can wash the seeds, coat them with a bit of olive oil and spread them out on an oiled cookie sheet. Sprinkle with salt and bake these for roasted pumpkin seeds, if you like.

Or if it's a pumpkin from your garden, and especially of the heirloom variety, you will want to save those seeds.  Throw the stringy bits in your compost pile, or better yet, feed it to your worms.

Step Three:  Cut Up the Remaining Flesh

Cube the remaining pumpkin flesh so it will fit into your steamer.  The smaller the pieces, the faster it will cook, so feel free to go to town with this.

Step Four: Put Your Pieces in the Steamer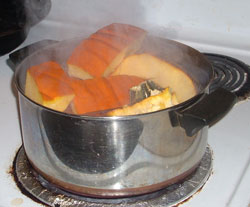 Put the cut-up pieces in a steamer and let them steam for about 20 minutes. I took the lid off the pot for this picture, but obviously, you want to keep the lid on.

This was a massive pumpkin, so it took several sessions to get the whole thing steamed.
Test the pumpkin periodically by piercing it with a fork. When the pumpkin is tender, remove it from the steamer and allow it to cool.

Step Five: Puree the Cooked Pumpkin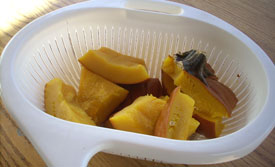 Allow the pumpkin to cool and then slice off the rind. It will come off quite easily.

Then put the flesh in a food processor and puree it. Or you can mash it with a potato masher.

Step Six:  Make the Pie Crust

Healthy pumpkin pie recipes call for a healthy crust.  I use freshly ground flour (I grind it in my grain mill and coconut oil mixed with butter to make my pie crust. I'm sort of hoping the freshly ground grains and healthier oil will compensate for the fact that I'm eating pie.

Here are the ingredients:
Two cups of whole wheat flour
One teaspoon salt
Nine tablespoons of coconut oil
Three tablespoons butter
Three to four tablespoons of cold water more or less
I say more or less because freshly ground flour has much higher moisture content and will require less water, while whole wheat flour you buy in the store might use considerably more.  Add the water gradually, and use your own judgment.  When it feels soft and pliable, but not too squishy, then you have enough water.

Place the flour in a medium-sized bowl and stir in the salt. Add the coconut oil and the butter, cutting it in with a fork and a knife until it resembles coarse crumbs.

Then gradually add the water until it resembles a flexible pie dough, neither too sticky nor too hard to work with.   Lay a piece of parchment paper on your cutting board and set the dough on the parchment paper. Then cover the dough with another piece of parchment paper.

Roll the dough between the two sheets of parchment. When the piece is large enough to cover your pie pan, carefully peel off the top layer of parchment. Then lifting up the bottom piece of parchment, turn it upside down and drape it across your pie pan.

Pat your dough into place and then peel away the remaining piece of parchment paper. Pierce the crust with a fork several times to keep it from puffing up during baking.

Step Seven - Make the Filling

Here's the filing recipe for your healthy pumpkin pie recipes: 
1 3/4 cups pumpkin
1/2 teaspoon salt
1 3/4 cups condensed milk
2 eggs
2/3 cup brown sugar
2 tablespoons white sugar
1 1/4 teaspoon cinnamon
1/2 teaspoon ginger
1/2 teaspoon nutmeg
1/4 teaspoon cloves
Mix these well and pour them into your prepared crust. Place in a preheated, 425-degree Fahrenheit oven and bake for 15 minutes.

Then turn the oven heat down to 350 degrees Fahrenheit and bake the pie for another 30 to 35 minutes. The pie will be done when a butter knife inserted into the center comes out mostly clean.
Healthy Pumpkin Pie Recipes
Gluten-Free Pumpkin Pie Crust

If you are looking for healthy pumpkin pie recipes that are gluten-free, you can make a pumpkin pie crust using ground-up gluten-free ginger cookies you make from scratch.  This recipe makes four dozen yummy, gluten-free cookies.  Grind up some gluten-free pie crusts for your healthy pumpkin pie recipes and either serve the rest along with the pie at family gatherings or freeze them to enjoy later.

I got this book from Gluten Free on a Shoestring by Nicole Hunn.
1 stick plus 2 tablespoons unsalted butter
2/3 cup sugar
4 tablespoons molasses
1 extra-large egg
1 teaspoon pure vanilla extract
2 cups all-purpose gluten-free flour
1 teaspoon xanthan gum
1 1/2 teaspoons baking soda
1/2 teaspoon kosher salt
2 1/2 teaspoons ground cinnamon
1 1/2 ground ginger
In a large bowl, beat the butter and sugar until fluffy, then add the molasses, egg, and vanilla, beating well.  Add the flour, xanthan gum, baking soda, salt, cinnamon, and ginger to the wet ingredients, mixing to combine.  Beat the batter until it is thicker and more elastic.  Wrap in plastic wrap and chill a few hours.
Slice the dough into small pieces and roll into small balls.  Place them on a baking sheet lined with parchment paper and press them down with a spoon to flatten.  Bake at 350 degrees for 12 minutes.
To make the ginger cookie crust for your healthy pumpkin pie recipes, use the following recipe:
1/2 cup all-purpose gluten-free flour
1/4 teaspoon xanthan gum
1/3 cup granulated sugar
2 cups finely ground ginger cookies
1 stick unsalted butter, melted and cooled
1/4 cup mashed pumpkin puree
Grease a 9-inch pie plate with unsalted butter and set it aside.  Stir together the flour, xanthan gum, granulated sugar, cookie crumbs, butter, and pumpkin puree, and blend well.  Press the mixture into the bottom and sides of the pie plate.  Cover with plastic wrap and chill for at least 1 hour. 
Preheat the oven to 325 degrees Fahrenheit.  Remove the plastic wrap from the pie crust, cover it with aluminum foil to keep it from burning, and bake it for ten minutes.  Allow it to cool completely.  Then use the crust as you would for any of your healthy pumpkin pie recipes.

How About a Dairy-Free Pumpkin Pie?

Are you lactose intolerant?  I recently tried this dairy-free pumpkin pie recipe for a friend who can't have dairy.  It was a huge success.  Her recipe called for baking this for 35 minutes, but I found it needed to bake longer, about an hour, for the pie to set.

2 cups fresh pumpkin puree (or one 15-ounce can)
1/2 cup almond milk (I used coconut milk.  It worked just fine)
3 eggs + 1 egg yolk
1 teaspoon vanilla extract
1/4 teaspoon kosher salt
1 teaspoon ground ginger
1 teaspoon ground cinnamon
1/2 teaspoon ground nutmeg
1/4 teaspoon ground clove
1/4 teaspoon ground cardamom
1/2 teaspoon lemon zest
1/2 cup grade B maple syrup

Whisk together and pour into a prepared crust.  Bake at 350 until the pie is set. 

Learn More About Frugal Cooking
Return from Healthy Pumpkin Pie Recipes to the Home Page