Cooking Pinto Beans
Cooking pinto beans are a great way to reduce both the cost and fat in your budget while adding some truly healthy eating to your life. They are a simple, low-fat protein that are versatile; use them in casseroles, soups or as a side dish to enchiladas.
One of the best ways to get out of debt and improve your health is by adding low-cost, but healthy foods to your diet.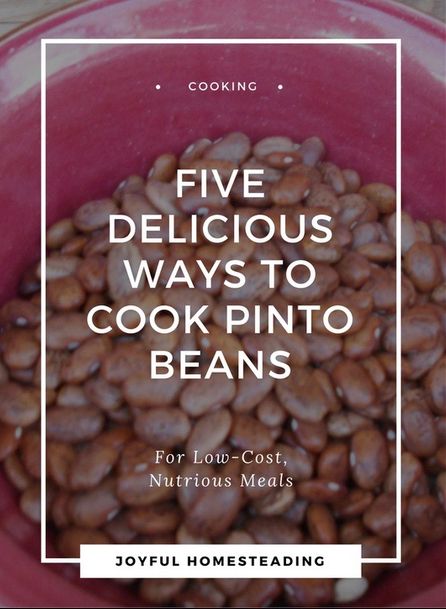 Pinto Beans are Healthier
Cook from scratch, and you not only eliminate extra cost, but also extra chemicals from your diet.  Did you know that high fructose corn syrup, along with GMOs is in almost every processed food available on the market today?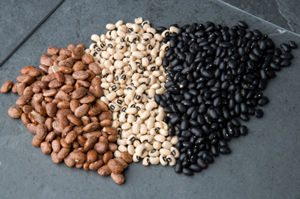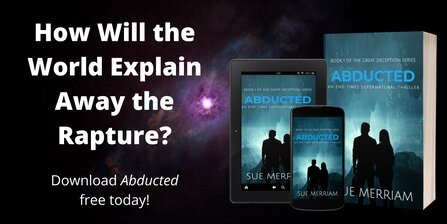 These unhealthy ingredients are a significant cause of obesity and are ruining our health.  That's why it's so crucial to return to back-to-basic cooking, including adding beans to your diet on a regular basis.
Beans are loaded with insoluble fiber that helps keep your colon clean. Having beans on a regular basis reduces constipation. That's because those insoluble fibers keep the soluble fibers moving on a regular basis throughout the entire colon and help reduce the risk of colon and rectal cancer.

Plus, cooking pinto beans and adding them to your diet significantly increases the amount of antioxidants in your system. These antioxidants can clear out dangerous free radicals to also reduce your chances of cancer.

A Wide Variety of Uses
Not only can pinto beans be used as a side dish and in soups, they also make an excellent addition to your gluten free flour mix to make breads and rolls as well.

What About Gas?
If you're not used to a high fiber diet, you may have more gas initially. But keep cooking pinto beans and other types of beans and eat them regularly, and your body will become accustomed to the extra fiber, and those gas attacks will ease.

Cooking Pinto Beans
Before cooking pinto beans, as well as almost every bean except the lentil, you will first need to soak your beans. The traditional way is to measure out two cups of dry beans and rinse them well in a colander, making sure to remove all stones and dirt.

Then place the beans in a pot and cover them with at least two inches of water. Allow your beans to soak overnight. You'll be ready for cooking pinto beans the next day.

Then rinse your beans and cover with clean water. Bring them to a boil and allow them to simmer for 45 minutes to an hour. The beans will be ready when they are tender. You can also test them by scooping out a bean or two and blowing on them. If the skin peels away, then the bean is cooked.

What if You Forget to Soak Them?
This happens to me a lot.  If you do forget to soak overnight, simply rinse your beans, put them in a pot, cover them with two inches of water and bring the water to a full, rolling boil.
Then remove the pot from the heat and allow the beans to set in the water for a full hour. Add a pinch of baking soda before you begin cooking the beans. The baking soda is crucial, or else the beans won't cook as quickly.

My Favorite Way of Cooking Pinto Beans
I love having cooked beans on hand and then using them in refried beans, a great compliment to enchiladas.
The traditional method calls for frying beans in a cast iron skillet with lard, tomatoes and onions, but I prefer this easier, lower-fat version.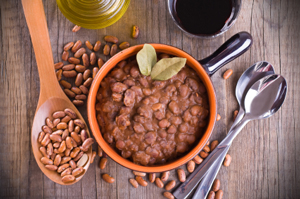 Easy Refried Bean Recipe
2 tablespoons olive oil
1/2 cup diced onion
1 tablespoon flour
1 cup or more of water
1/4 teaspoon of garlic
1/2 teaspoon of cumin
1 teaspoon of chili powder
1/4 teaspoon sea salt or to taste
2 cups of cooked pinto beans
1 12-ounce can of diced tomatoes
Heat the oil in a skillet and add the onion. Cook until the onion is soft, about three minutes. Then add the flour and mix well.

Gradually add the water until you have a thickened gravy. Add the garlic, cumin, chili powder and salt. Allow the mixture to cool slightly.

In a food processor, add the beans and tomatoes. Then add the gravy mixture. Blend together. Reheat the beans in the skillet, if desired.

Five Minute Refried Bean Recipe
I personally thought the beans had a stronger bean taste in this refried bean recipe than they did if cooked the traditional way, but I'm including this recipe because it's a good one to have on hand in an emergency, especially if you have a hand operated grain mill. 
I got this recipe from the book, Country Beans, a handy guide showing you how to use beans in making everything from side dishes, to breads and even desserts.  Add salsa and extra spices to hide the strong bean taste.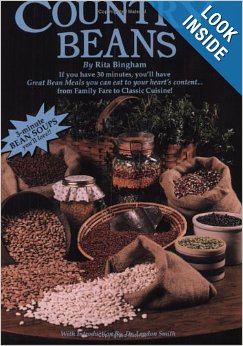 Make the bean flour by grinding it fresh in your grain mill.

2 1/4 cups warm water
1/2 to 3/4 teaspoons salt
pinch of garlic powder
3/4 cup of ground pinto bean flour
1/4 teaspoon cumin
1/2 teaspoon chili powder.

In a small saucepan, whisk the bean flour and spices into water.  Bring the mixture to a boil.  Then cook, while stirring, over medium heat for one minute until it thickens.  Then reduce the heat to low and cook an additional four minutes.

Cooking Pinto Beans for a Bread Recipe

This recipe also comes from the book Country Beans.
1 pkg. dry yeast (1 Tablespoon)
1/4 cup of warm water
1 cup mashed pinto beans
2 Tablespoons honey
1 Tablespoon butter or applesauce
1 egg
1 Tablespoon instant minced onion
1 teaspoon salt
1/4 teaspoon soda
2 1/4 to 2 1/2 cups of whole wheat flour

Soften the yeast in water.  Combine in a mixing bowl with beans, honey, butter or applesause, egg, onion, salt and soda.  Add flour to form a stiff dough, beating well after each addition.  Cover and let rise in a warm place until light and doubled in size, about 50 minutes.  Stir down the dough.

Turn into a 2 quart, greased casserole dish and let it rise for another half hour.  Then bake it at 350 degrees for 40 to 50 minutes.  Brush with butter and sprinkle with sea salt.


One Pot Pinto Beans
6 1/4 cups water
1 cup condensed chicken broth
2 pounds dried pinto beans
5 cloves garlic, chopped
1/2 red onion
1 tablespoon red pepper flakes, or to taste
salt, to taste
1 (8 ounce) package shredded mozzarella cheese (optional)
1 (16 ounce) container pico de gallo (optional)

Combine water, condensed chicken broth, beans, garlic, onion, and crushed red pepper flakes into a large saucepan; season to taste with salt and pepper.  Bring to a simmer; cover.  Cook, stirring occasionally, until beans are soft, about 3 1/2 hours.  You may need to add additional water to keep the beans from drying out.

Mash the cooked beans with a potato masher to desired consistency.  Stir in the mozzarella and pico de gallo before serving.
This recipe comes from AllRecipes.com.

Pinto Bean Dip
2 cups cooked pinto beans
1/2 onion, minced
1 clove garlic, pressed
1 chili pepper, minced
1 tomato, chopped fine
1 tablespoon liquid aminos or soy sauce
salt to taste

Mash the beans in a large bowl and add all of the seasonings.  If you wish, you may play all ingredients in a blender and puree them. 

Serve with crackers or use to fill a pita bread and garnish with sprouts for a tasty sandwich.

This makes about 2 1/2 cups.

This recipe comes from The New Vegetarian Cookbook.

Learn More About Frugal Cooking
Return from Cooking Pinto Beans to the Home Page