Tips to Homesteading
Tips to homesteading will help you in pursuing the self-reliant life.

| | |
| --- | --- |
| Homesteading is just as possible now in the twenty-first century as it was a century ago.  Not everyone will want to move to a rural area and earn free land (although you still can), but you can achieve financial freedom and live a simpler, slower-paced life.  It is possible.But you will need to get proactive now if you're serious about living the self-reliant lifestyle.  | |
Here are seven tips to homesteading you should take if you want to break free.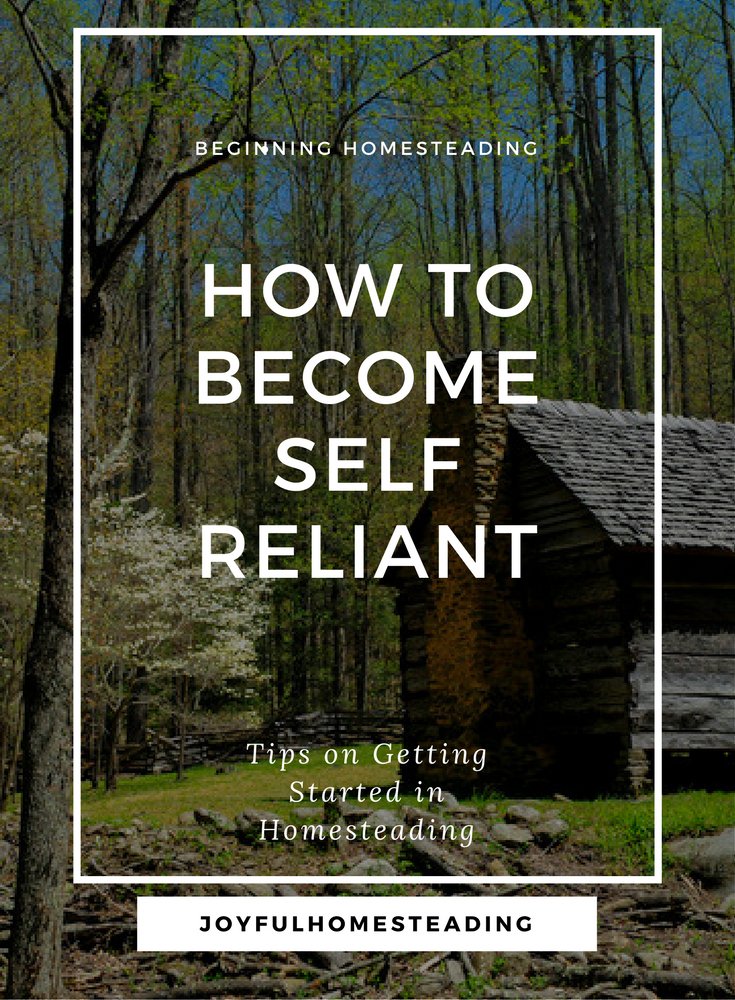 Tips to Homesteading #1
Remember that Homesteading
is a Lifestyle
Meaning that homesteading is a way of life.  It's who you are, even more than it's where you live.  You don't have to wait until you get that piece of land somewhere.  You can start homesteading right now, even if you live in the city. 

Grow a garden, either in your backyard on on your balcony.  Keep chickens if you have a backyard, and also consider keeping bees.  They're dying in droves and they need help to stay alive.  Do your part by keeping a hive either in your backyard or on a rooftop, if you have access to it.

Tip #2 - Cook Your Own Food
The truth is, the fastest way to save money and improve your health is by cooking your own food from scratch.  Make enough for dinner so you can take leftovers for lunch the next day to avoid the temptation of that fast-food burger.
Tips to Homesteading #3
Start, But Start Small

Plant too large of a garden, and you'll get overwhelmed.  The same goes with investing in livestock.  I once bought 50 chicks, 30 of which were roosters that I eventually had to butcher.  I couldn't even look at a chicken for awhile, and I ended up keeping 20 hens.  Moving several chicken tractors around and finding customers for all the eggs became overwhelming.  Avoid burnout by starting with a small flock and then gradually building up.

Tips to Homesteading #4
Waste Not, Want Not

That old proverb is just as true today as it was more than two centuries ago.  Take care of what you have, try to avoid waste, and your finances will naturally improve.  I know we don't intentionally try to waste food and money, but it will happen if you don't stay on top of what you're buying and use it wisely.  Take those dinner leftovers for lunch the next day.  Keep track of what you have so you're not tempted to buy more than one pair of scissors simply because you can't find the other pair at home. 

This doesn't mean you become a hoarder, by the way.  It does you no good to hang onto things if you have no idea what you have, and if you're tripping over piles as you walk from the bedroom to the kitchen.  Instead, be wise with what you have.  If you use it often, make it a habit to keep it in the same place so you can find it.  If you don't use it, sell it one eBay or in a garage sale or donate it to a thrift store.

Tips to Homesteading # 5
Contact Your County Extension Office
In addition to offering 4-H, a program for kids from nine to nineteen, your county extension also offers programs for adults, including master gardening classes, and livestock seminars.  It's a great way to acquire skills in self reliance.

Tip #6
Join Your Local Beekeeping Club
Not only will you learn about keeping bees, you will also meet like-minded folks who have a passion for everything homesteading and who generally have loads of experience on homesteading.

More Tips to Homesteading
Do you feel alone in your zest for homesteading? Find others who share your passion for self reliance. Learn how.

Can you work on your homestead full time, and still earn a living? It may take a little creativity, but it can be done. Here's how.

Is it still possible to earn your land just by living on it? It is if you're willing to living in a more remote area. Learn more here.

Have you ever been curious as to what the term homesteading means? Learn what the homesteading lifestyle means today.

Learn how past generations have been successfully pursuing self sufficiency, and what you can learn from them by reading these books.



Read one man's story of what he learned from his grandfather about harvesting wild plants by clicking here.

Growing your own food is a crucial part of self reliance. But how do you keep it fresh? There is a way if you build a cellar to store your food. Learn how.

By building your own home in the country, you save tons of money, and there are a variety of ways you can build your home. Learn more.

Ready to learn how to be more self sufficient? Learn fourteen ways tips to homesteading to live off the land by clicking here.

Learn why so many people, including me, are turning to homesteading by clicking here.

Think you need a large plot of land to pursue the homesteading life? Think again! Follow these tips to homesteading and learn why you should start homesteading now by clicking here.

The self reliant life is great for the individual, but is it good for the nation as well? And what happens when self reliance is destroyed? Learn more by clicking here.

A great, low-cost alternative to traditional building methods is cordwood construction, using split wood and mortar to build your home. Learn more.

Agritourism is a fast-growing industry that allows you to earn money off your land while pursuing the self-reliant lifestyle. Want to find out if it's right for you? Click here.



Return from Tips to Homesteading to the Home Page