Recipe for Velveeta
Cheese Substitute

A recipe for Velveeta Cheese substitute is great way to enjoy your favorite recipes that call for Velveeta Cheese without the extra cost or chemicals. 
This homemade Velveeta Cheese substitute had a sharp cheddar taste.  Yummy!

I have always loved cheesy dips made with Velveeta, and broccoli rice casserole is one of my all-time favorites.  But I hate the idea of eating any processed foods, and I especially hate feeding them to my children.
You can imagine my joy, then, when I stumbled onto this recipe for Velveeta cheese substitute.
It tastes exactly like the store-bought version but at almost half the cost; you can make about three pounds of this for $7.50 or $2.50 per pound. 
The store-bought version costs around $4.18 per pound.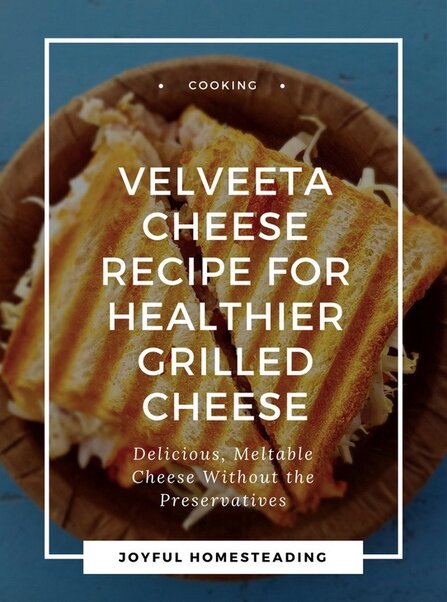 For this recipe, I bought a box of Knox Unflavored Gelatine with four little packets inside for about $1.75 at the time of this writing.  that's about six teaspoons of powdered gelatine at a cost of about 30 cents per teaspoon.
Because I really like this recipe and can see the usefulness of knowing how to make homemade Velveeta cheese substitute, I am thinking of investing in a pound of gelatine powder, bringing my cost down to about 7 cents per teaspoon.
The gelatine will last for years, and I can use it in other recipes as well.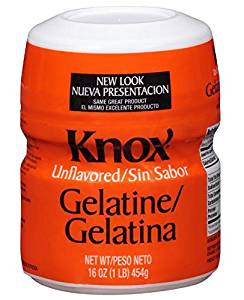 Gelatine powder, bought in bulk, can save you a ton of money.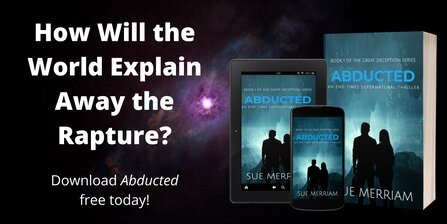 This is also a great way to cut chemicals out of your diet.  The homemade version has cheddar cheese, powdered milk, water and gelatin.   Period.  The store-bought version, on the other hand, also has sodium phosphate, maltodextrin, sodium alginate, sodium citrate, apocarotenal and annatto (color). 

I know it's unrealistic to cut chemicals completely out of our diets, but the fewer chemicals we consume the better, including artificial coloring.  Even though they have been approved for use in the United States, nine of the food dyes currently being used in the US are linked to all kinds of ailments, including cancer, hyperactivity and allergy-like reactions.

Really, it only takes a few extra minutes to make this, and it's well-worth the extra time and effort.  So without further ado, here's the recipe for Velveeta Cheese substitute.

Recipe for Velveeta
Cheese Substitute
Here's what you will need:

2 cups shredded cheddar cheese, preferably at room temperature
1/2 cup extremely hot water
3 tablespoons powdered milk
1/2 teaspoon unflavored gelatin powder
You will also need either a blender or a food processor.
(I bought my powdered milk in bulk and then stored it into vacuumed-sealed jars.)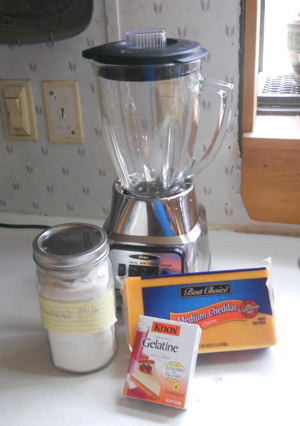 How to Make a Velveeta
Cheese Substitute

Grate the cheese and allow it to sit out at room temperature for about an hour.  This helps the cheese to blend better.

Line a bowl or other container with plastic wrap.

Pour the extremely hot water into the blender and add the powdered milk and the gelatin powder. 
Blend until the gelatin is completely dissolved, about a minute.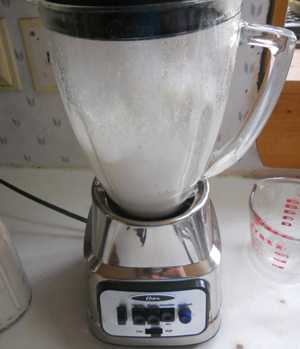 Then quickly add the shredded cheese. 
Process until it is completely blended, about two or three minutes.

The cheese will set up pretty quickly.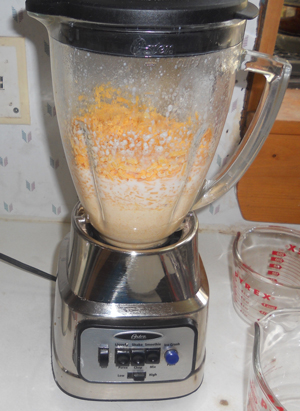 Pour it into the lined container and spread it smooth.  Then cover it with more plastic wrap and place it in the refrigerator, preferably overnight.

Use this Velveeta Cheese substitute in casseroles, dips and any recipe calling for Velveeta cheese. 

Because this Velveeta cheese substitute is made with freshly made ingredients, use it right away or store it in the refrigerator and use it within a few days.
Learn More About Healthy, Frugal Cooking