Healthy Casserole Recipes
Save Time and Money

Healthy casserole recipes are a real plus in frugal, self-reliant living.  They are a great way to make use of your stored food, most of them cost a lot less per serving than fast food, and you can make them up ahead of time and freeze them for those days when you are too tired or too busy to cook, encouraging you to stay away from fast food altogether.  

Plus, casseroles are easy to make, often requiring ingredients such as canned meat and/or beans, frozen vegetables and pasta. And while it is much cheaper to cook beans from scratch, having a few cans of navy and black beans on hand for casseroles is also wise and frugal.
So be sure to try these healthy casserole recipes to save time and money.
Preparing These Healthy Casserole
Recipes Ahead of Time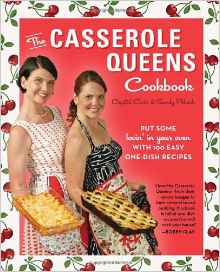 According to the book, The Casserole Queens Cookbook, by Crystal Cook and Sandy Pollock, if you're going to make one casserole, you might as well make two and put the other one up in the freezer for later use. 
Line your baking pan with heavy aluminum foil and fill with your casserole ingredients.  Then cover with foil and freeze. 
Once your casserole is frozen, lift it out of your baking pan, and wrap it well, writing on it with a permanent marker the casserole, its ingredients, and when it was frozen. 
Thaw before baking, or bake for twice as long if it's frozen.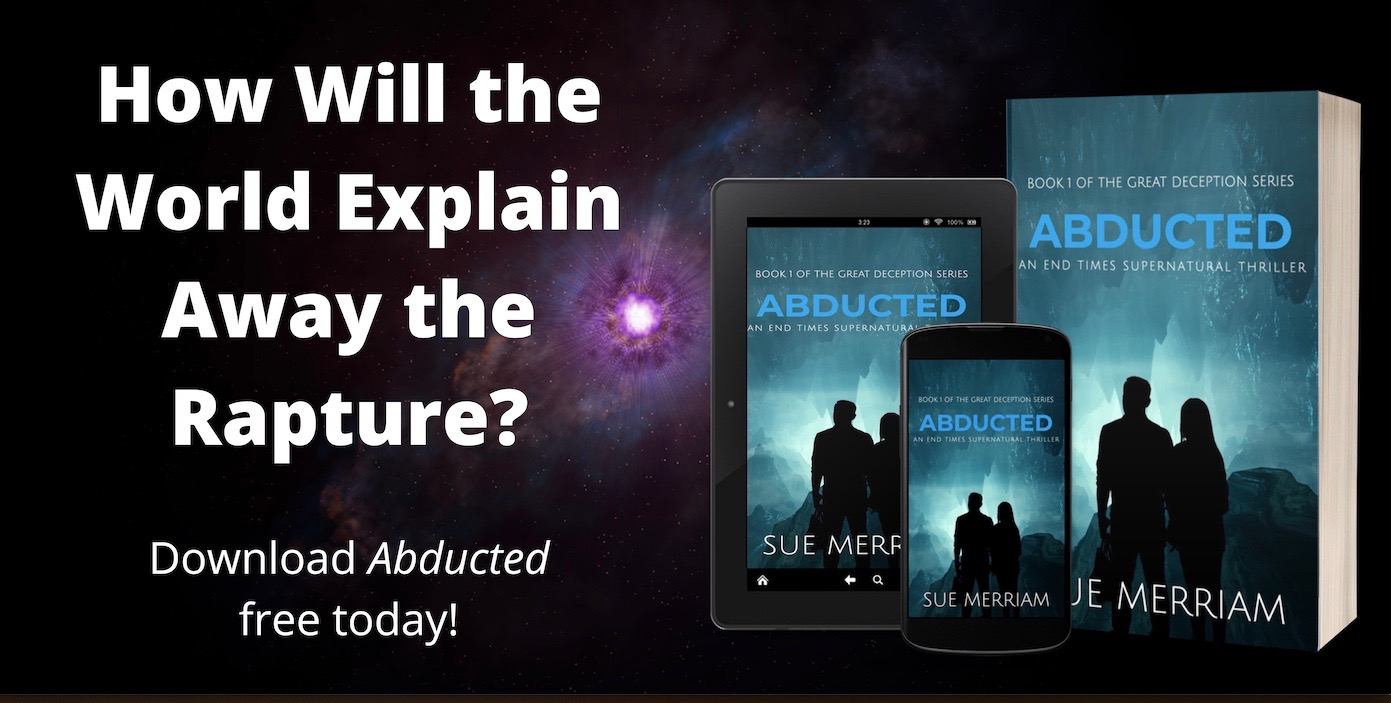 Try These Healthy Casserole Recipes
The following two healthy casserole recipes come from The Casserole Queens Cookbook by Crystal Cook and Sandy Pollock.

Beef-Stuffed Cabbage Rolls


1 large head of cabbage
1 pound lean ground beef
1/3 cup cooked long-grain white rice
1 small onion, grated
2 large eggs
2 teaspoons salt
1/2 teaspoon freshly ground black pepper
1 large onion, diced
3 cans (14 1/2 oz.) diced tomatoes
4 teaspoons lemon juice
1/4 cup light brown sugar

Preheat the oven to 350 degrees Fahrenheit.  Remove 15 large leaves from the cabbage and trim off the thickest part of each leaf.  Pour boiling water over the cabbage and let the leaves soak until they are pliable, about 4 minutes.  Remove from the water, pat dry, and set aside.

Combine the beef, rice, grated onion, eggs, 1 teaspoon of the salt and 1/4 teaspoon of the black pepper.  Place 1/4 cup of the meat mixture in the cupped part of each of the softened cabbage leaves. 
Fold over the sides of each leaf and roll them up.  Recipe will make 8 to 10 rolls.  Place the remaining 5 cabbage leaves in the bottom of a 9 x 13-inch casserole dish.  Arrange layers of cabbage roles seam side down, then add a layer of sliced onion over the cabbage rolls.  Top the onion slices with another layer of cabbage rolls.

In a large bowl combine the tomatoes, tomato sauce, lemon juice, remaining 1 teaspoon salt, and remaining 1/4 teaspoon pepper.  Pour over the cabbage rolls.  Bake until bubbling, about 30 minutes.  Sprinkle the casserole with the brown sugar, cover the dish with foil, and continue baking for 1 hour.  Remove and serve hot.

Healthy Casserole Recipes that Provide Comfort: Skinny Yankee Pot Roast
2 teaspoons olive oil
1 (4-pound) boneless beef chuck road, trimmed
1 tablespoon kosher salt
1 tablespoon freshly ground black pepper
4 garlic cloves, minced
3 cups low-sodium beef broth
1 (6-ounce) can tomato paste
2 teaspoons sugar
2 tablespoons Worcestershire sauce
1 1/4 pounds small red potatoes
1 pound carrots, peeled and cut into 1-inch pieces
6 celery ribs, cut into 3-inch pieces
2 medium onions, quartered
2 tablespoons fresh lemon juice
2 tablespoons chopped fresh flat-leaf parsley

Preheat the oven to 300 degrees Fahrenheit.  Heat the olive oil in a large Dutch oven set over medium-high heat.  Season the roast with salt and pepper.  Put the roast in the pan and brown it on all sides, about 4 minutes per side. 
Add the garlic to the pan and sauté until lightly browned, about 1 minute.  Return the roast to the pan.  In a separate bowl, combine the broth, tomato paste, sugar, and Worcestershire sauce and stir until the sugar dissolves.  Pour over the roast and bring to a simmer.

Cover the Dutch oven, and put it in the oven.  Bake for two hours.  Add the potatoes, carrots, celery and onions, in that order, to the pot.  Cover and roast for one more hour, or until the vegetables are tender and the meat has an internal temperature of 140 degrees Fahrenheit (medium rare). 


One of My Son's Favorite Healthy Casserole Recipes -
Lentil Rice Casserole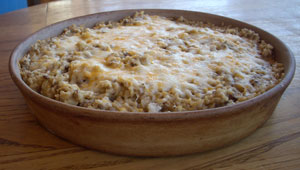 My son loves this casserole, and it's super healthy with lentils in place of ground beef and brown rice.
For a "beefy" taste in healthy casserole recipes like this one, add one and a half teaspoons of beef bouillon or a beef bouillon cube.
When cooking lentils, it's one part lentils and two parts water. For brown rice, you might want to add a bit more water than that.

1 1/2 cups brown rice plus 3 1/2 cups of water
1 teas. salt
1/4 teas. garlic powder
1/2 cup dry lentils, plus 1 cup of water
1 teas. beef bouillon or one cube
2 tables. butter or margarine
2 tables. flour
1/3 cup of milk
enough water to make a soup base
dried mushrooms (optional)
salt to taste
2 slices of whole grain bread
1 cup of cheese
In a two quart saucepan, combine the brown rice, 3 1/2 cups of water, salt and garlic powder. Bring to boil. Reduce heat to low, cover and simmer for about 45 minutes or until all the water is absorbed.  When the rice is half-way cooked, it's time to start the lentils. In a one quart saucepan, combine the lentils, 1 cup of water and beef bouillon.

Bring to a boil. Reduce heat to low, cover the lentils and simmer for about 20 minutes or until all the water is absorbed. When the lentils have been cooking for about fifteen minutes, it's time to make the white sauce. Also, preheat your oven to 350 degrees.
You'll want a 4 1/2 quart pan or larger stockpot. You'll be using this pot to mix all the ingredients together.  Melt the margarine or butter on medium heat and then stir in the flour. Once the flour is all absorbed, stir in the milk. The flour mixture should start thickening pretty quickly.

Gradually add 1-2 cups of water until the sauce is the consistency of soup. Add salt to taste. If you have dried mushrooms on hand, crumble them and add them to your soup.
Add the rice and lentils and stir until well-mixed. Put the mixture in a well-greased casserole dish. Take two slices of whole grain bread and put them in a food processor until they become bread crumbs. Top the casserole with the bread crumbs. Top it all with grated cheese.

Bake your casserole in a 350 degree oven for 20 minutes or until bubbly. This recipe serves six.