Bees and Dutch Oven Cooking
by Ronnie
(Toms Brook, VA)
Hello all. The last time I posted, I shared my bread baking experience. I have expanded and started two bee colonies.

I am having a blast. I took a beginners class from a local bee club and ordered two colonies. One colony is rather weak and probably won't survive. (This happens.) The other hive is doing awesome. I will be collecting honey very soon. The added benefit is that the pear and apple trees have more fruit than ever on them.

Bees take a small investment for equipment and supplies.





Check out this built-up frame dripping with honey.

I think the benefit of having an endless honey supply are worth it. I have sampled the honey and it is the sweetest tasting honey that I have ever had. I will be adding more colonies next spring.

I recently went camping and took my new 8 quart and 4 quart Lodge cast iron Dutch Ovens. I cooked a beef stew in the 8 quart and made a peach cobbler in the 4 quart using only charcoal briquettes to cook with. Both were excellent.

I have added more pictures below.

Anyway, thought that I would post and encourage.

Ronnie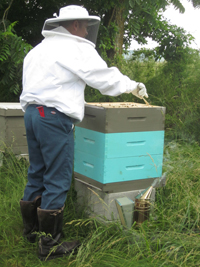 Ronnie tending his hives of bees.









| | |
| --- | --- |
| Cooking with a dutch oven. | And the delicious results! |