My service as a family entertaineer
by Neal
(Louisville, KY)

White-face make-up style

I perform in the Louisville, Ky area. I perform as Blue The Clown, Santa Claus, Mr. Twister (a balloon artist) and occasionally other characters.

If you are interested in trading, contact me at bluetheclown@ymail.com and let me know what you have to trade and what you are looking for from me!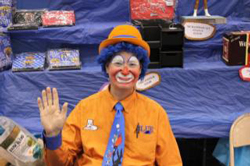 Auguste make-up style

******NOTE FAMILY ENTERTAINEER do not ask me to be a stripper or any other such nonsense! (yes I have had both practical jokers and serious inquiries for idiotic stuff like that.)
Join in and write your own page! It's easy to do. How? Simply click here to return to Bartering Corner.