Hi,


Issue #62, March 6, 2017
We Got Our Chicks This Week!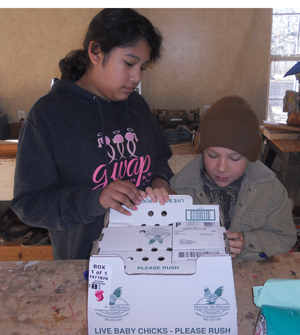 Have you ever ordered chicks from a hatchery? There's nothing more exciting than getting that call from the post office telling you that your order of baby chicks are in.
If you've never raised chicks, you're missing out. They are truly easy to raise and so much fun. Making your own brooder is easy (here's how).
You can either raise chickens for meat (more here) or raise them for eggs (read about it here) or both.
Best of all, chickens can be raised in the city as well as the country. They're gentle, good with children and hardy. So order your chicks or get from your local feed supply store. You won't regret it.
Water From Your Well Without Electricity
A deep well hand pump can be a great solution if you have a drilled well on your property but want an extra way to draw water, should the power go off, if a disaster strikes, or if you want to go off the grid completely.

Click here to read the full article.
Make Your Own Herbal Tinctures
Making herbal tinctures is an effective way of making a more potent herbal remedy for self reliant healing. Better still, these tinctures can often be made from plants found in the wild, or in your front yard, at a fraction of what you would pay in a health food store.

Click here to read the full article.
Surviving in the Wild
Some basic outdoor survival skills are a plus at any time, and especially during the uncertain days we live in. You never know when you'll be stranded somewhere with no access to a grocery store or even a convenience store.

Click here to read the full article.
Choosing a Hydroponic System
The best hydroponic system for those starting out in hydroponics is obviously the one that is affordable and easy to use. Most people would love their own source of fresh lettuce in January, especially if they don't have much garden space outside.

Click here to read the full article.
The Benefits of Dehydrated Vegetables
Dehydrated vegetables are an excellent way to save money, add nutrition to your diet and provide security in these troubled times. That being said, I'm going to be right upfront about vegetables that have been dehydrated. They taste different. Not bad, just different and more like vegetables picked fresh from the garden.

Click here to read the full article.
Why You Should Avoid Fast Food
Fast food is bad for you. There's just no other way to say it, and the effects of fast food can wreak havoc with your waistline, your health, and your pocket. Here are ten reasons you should avoid that junk burger and cook a great meal at home instead.

Click here to read the full article.
Homesteading and Chickens
Homesteading and chickens go hand in hand. After all, no homestead is truly complete without a flock about. These wonderful birds are a gift to the self reliant, providing us with eggs, meat and a productive garden.

Click here to read the full article.
Emergency Preparedness
Emergency preparedness response includes having an emergency supply kit on hand, a must for every family, and especially for the self-reliant homesteader. Ice storms, earthquakes, hurricanes, blackouts or even terrorist attacks are likely to happen to anyone at anytime.

Click here to read the full article.
Storing Food Wisely
A food storage tip or two will protect one of the most valuable investments you have - your storable food so that you can enjoy it for years rather than months.

Click here to read the full article.
Easing Into Aquaponics
Aquaponics made easy is a bit of an oxymoron. Anytime you have a system that involves a mesh of aquaculture and hydroponics, you can't expect it to be completely simple. But there are some easy ways to learn aquaponics and get your feet wet that won't put you out of a lot of money plus provide you with some potentially great food as well.

Click here to read the full article.

And as always, may all your homesteading be joyful!
---
Like this issue of Successful Homesteading? Please forward it to a friend! And if a friend did forward this to you and you like what you read, please subscribe here.



---
Comments? Ideas? Feedback? I'd love to hear from you. Just reply to this zine and tell me what you think! And thanks!