Hi,


Issue #65, April 20, 2017
I Just Loaded Bees Into Their Hive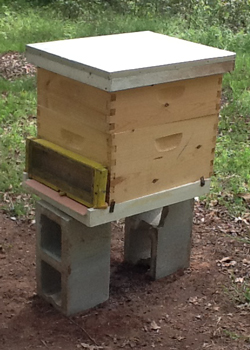 Whew! What an Experience!
I just received my package of bees and got them into the hive. Whew! There's nothing more nerve wracking and exciting than picking up that buzzing wooden box of bees, bringing them home and placing them into their new home.
I love my bees, and I love that I'm helping protect these amazing and vital insects. If you'd like to learn more about bees, read my article on getting the right equipment, the best location and how to load your bees into their new homes.
Here's to a productive spring!
Sue
Why We Use Heirloom Seeds
Heirloom seeds are a wise investment not only because you are saving an age-old variety of vegetables, but also because food grown from heirloom garden seeds are far better for your health. But don't expect to find these seeds in your local gardening center.

Click here to read the full article.
The Importance of Keeping Bees
Honey bee beekeeping is a great part of self reliance and provides you with fantastic fresh, raw honey. Learn beekeeping basics and you'll have your own source of nutrition and even healing.

Having a hive or two not only provides a nourishing food packed with health benefits, but bees also provide excellent pollination for your garden and orchard. Think far more abundant harvest year after year.

Click here to read the full article.
Are Your Roses Blooming? Make Jam!
This rose petal jam recipe is a great way to make use of the roses growing on your property. Have an abundance of roses nearby? This jam recipe is a sweet addition to your breakfast table, relying on what's growing on your own land. This makes a beautiful jam ranging in colors from light pink to fushia, depending on the color of the roses you choose.

Click here to read the full article.
Grow Mullein to Fight Coughs Next Winter
Mullein is an underrated, but powerful little plant that you would often mistake as a useless weed, but don't. You'd be surprised at the benefits of this powerful little roadside flower, including as a remedy for coughs, a great combatant for many strains of influenza and a terrific, low-cost way to heal an earache. This unassuming plant is a must-have in the self-reliant garden.

Click here to read the full article.
The Importance of Mulching
A few tips for mulching will strengthen the health of your organic garden and and make your gardening attempts easier and more productive. Granted, successful gardening will take work, but using a few simple methods will make the work easier. Mulching is one of them.

Here are four reasons you should be mulching, along with some helpful tips for mulching.

Click here to read the full article.
---
Like this issue of Successful Homesteading? Please forward it to a friend! And if a friend did forward this to you and you like what you read, please subscribe here.



---
Comments? Ideas? Feedback? I'd love to hear from you. Just reply to this zine and tell me what you think! And thanks!